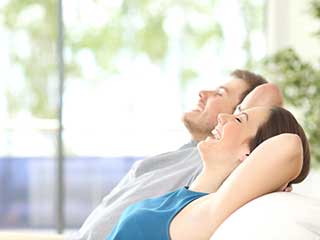 Why Should You Care?
If you or anyone living with you has allergies, asthma, or are even simply older, air quality should be a big concern. Especially if you notice that symptoms like trouble breathing, watery eyes, and otherwise are an issue even when you're indoors. While you may think the quality of the air in your home should be better than what's outside, if your home's ducts and vents aren't cleaned periodically this isn't the case. Dust, dirt, and other materials get sucked in with the air to use for air conditioning and heating and get trapped inside. Not only do they create blockages that slow air flow and increase energy spending, but the particles pollute your home's air as it passes through. This is what aggravates breathing conditions and causes fatigue even in those who are otherwise healthy and is why cleanings are so important!
Air Quality Testing Is Easy
The best first step to take is to have an expert come out and perform an air quality test on your home to determine where it's at exactly and how good or poor the air is. More than that, it also breaks down various components of what particularly is in the air which can put a focus on the problem areas that need dealing with. Things like mold, rodent waste, and even too much pesticides will show on the results to let you know if more than just a simple cleaning is needed to get your home's air in good shape.
Quick And Thorough Air Duct Cleaning
It's important that the ducts of your home are cleaned correctly to ensure that the dust and otherwise isn't simply being stirred up to more heavily pollute the air. Which is why it's best to bring in the professionals! We use high-quality equipment to make sure that your ducts are completely cleared out and that there's no cross-contamination in the process. It's done fast, but never at the expense of a job well done!
Call Us Now
Contact Air Duct Cleaning Pasadena today, and we'll help get your home fresh!
Need more? We also provide:
Cleaning Office Air Vents