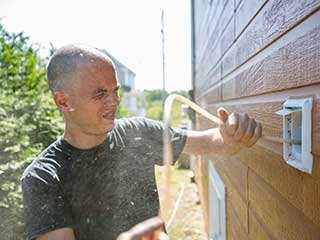 If you want to make sure your dryer lasts for years, you need to make sure you perform the maintenance that your appliance requires. One important yearly step you need to take to ensure that your dryer doesn't break down prematurely is to clean the vent. Our experts have years of experience in doing this and can help you enjoy the benefits of cleaning your machine for many years to come.
Protect the Motor
When the dryer vent is clogged with lint, your appliance will have to work harder to force air through the vent. This can cause the motor to work harder and even burn out prematurely. When this occurs, you will have to pay for a very expensive repair job or even replace the whole unit altogether. We can prevent this by providing you with quality dryer vent cleaning you can trust.
Keeping the Components Safe
When there is a buildup of lint in the appliance, it is normal for it to spark and get very hot. Over time, this heat can affect other smaller components in the dryer. When we perform expert dryer vent cleaning, you won't have to worry about any damage to your machine.
Prevent Fires
Even the smallest fire or spark in your appliance can cause a lot of damage and even burn down your home. We work hard to keep you, your family, and your house safe, and can do this by efficiently removing all of the lint from your machine. Any dryer triggered fire, no matter how small, will cause you to have to get an entirely new dryer.
Everyone wants their appliances to last for as long as possible and we can help to ensure that your dryer lasts for many years to come. Call us at Air Duct Cleaning Pasadena today to discuss your needs and book an appointment.